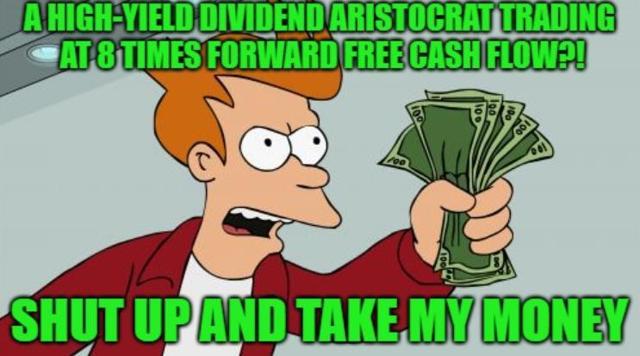 (Source: imgflip)
My retirement dividend growth portfolio has a simple goal; assemble a collection of quality income-producing assets to generate generous, safe, and exponentially growing income. A cornerstone of my strategy is to buy highly out of favor sectors.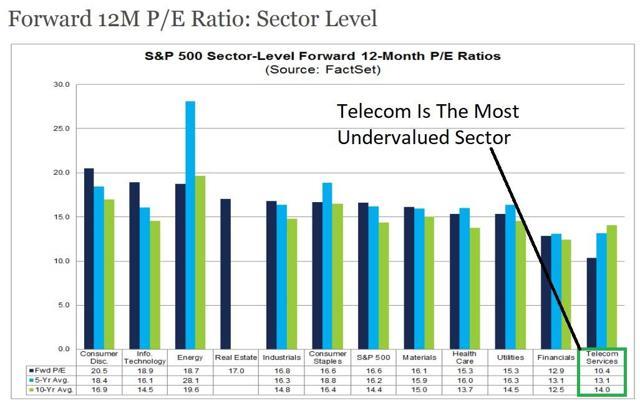 (Source: FactSet Research)
Currently, telecom is the most hated sector, trading at just 10.4 times forward earnings. That's significantly below both its 5- and 10-year average. These low valuations are due to a combination of interest rates rising off their all-time lows, as well as concerns over cord-cutting and stagnant growth.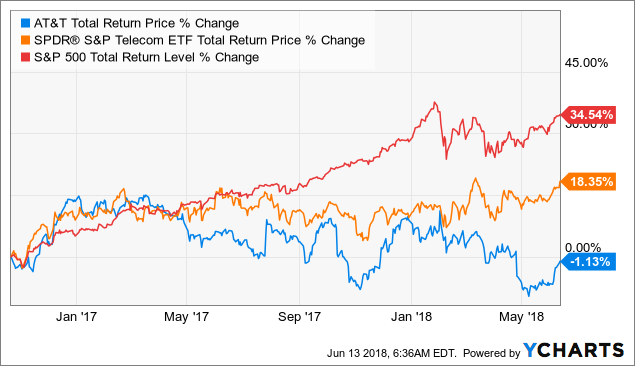 T Total Return Price data by YCharts
And few telecoms have underperformed more than high-yield Dividend Aristocrat AT&T (NYSE:T). That's because Ma Bell not just suffers from the same short-term growth challenges, but has been locked in a battle with federal regulators and the Department of Justice since October 22nd, 2016, to acquire media giant Time Warner (NYSE:TWX).
Well, now that battle is over, because on June 12th, Judge Richard Leon approved the merger without conditions, and even said that any appeals by the DOJ would not result in a stay on the merger closing. AT&T has said it plans to close the merger by June 20th.
Let's take a look at the many reasons this merger is a huge win for shareholders of AT&T. In fact, it could be just the growth catalyst that finally allows the company to generate long-term market-beating total returns, especially from today's incredibly attractive valuations.
1. The Merger Provides Just The Short-Term Boost AT&T Needs To Keep Growing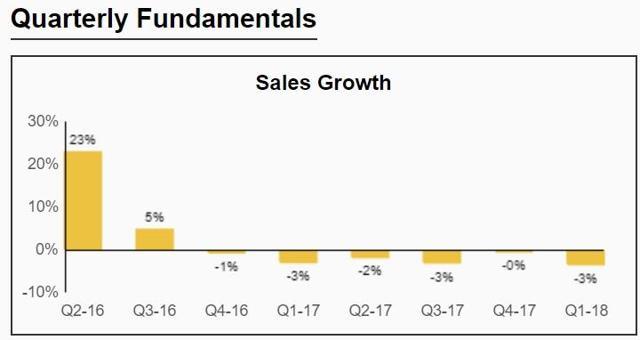 (Source: Simply Safe Dividends)
AT&T is America's second-largest telecom provider with over 143 million wireless subscribers. However, due to the saturated nature of the US telecom market, the company has been struggling with flat top line organic growth for nearly a decade. In fact, only large-scale acquisitions, such as 2015's $49 billion purchase of DirecTV, have helped keep AT&T's revenues growing in the past few years.
The company has been plagued by two main issues. First, while its wireless business continues to gain customers at a steady pace, most of those are not the highly profitable postpaid (monthly subscribers), but prepaid and connected devices.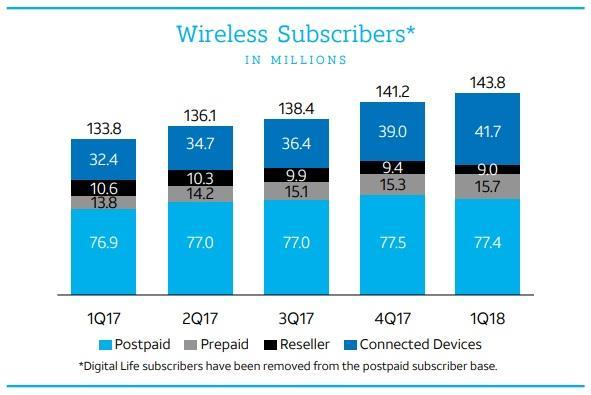 (Source: AT&T earnings presentation)
The company's postpaid subscriber count growth has slowed to a crawl, thanks to T-Mobile (NASDAQ:TMUS) kicking off an industry-wide price war that included unlimited data plans. Sprint (NYSE:S) joined in that fight, and both Verizon (NYSE:VZ) and AT&T had to follow suit, offering lower-cost bundled plans that have driven down average revenue per user, or ARPU, by 6.9% in the past two years. This has caused mobility revenue (39% of 2017's company total) to remain flat since 2016.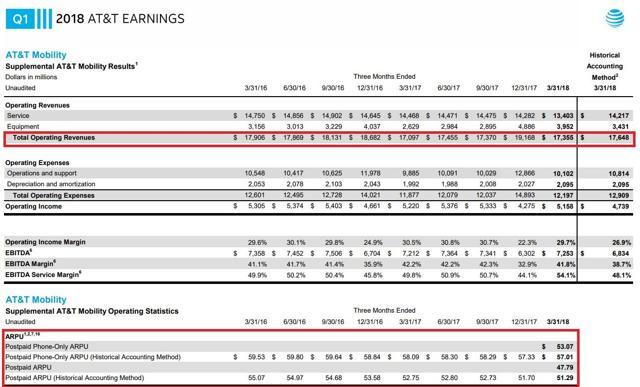 (Source: AT&T earnings supplement)
The other major business unit that's struggling is the entertainment group, which includes broadband internet and pay TV.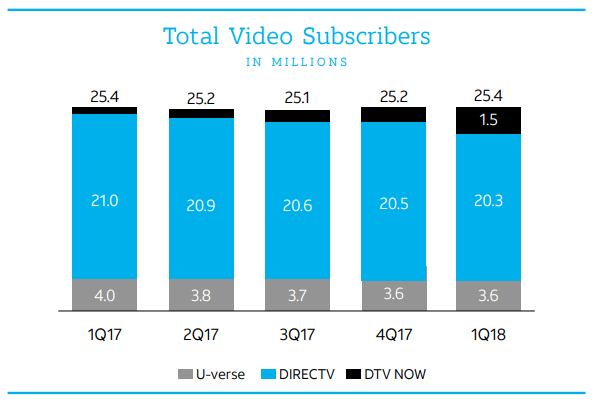 (Source: AT&T earnings presentation)
Over the past year, cord-cutting at DirecTV cost the company 700,000 subscribers. Meanwhile, U-Verse (cable) saw its subscriber base decrease 10%. The good news is that DirecTV Now, the company's new streaming platform, is growing like a weed, allowing AT&T to maintain flat video subscriber numbers over the past year.
The issue, however, is that DirecTV Now generates only about $31 per month in net revenue, which means that as it's grown in popularity, Video ARPU has fallen significantly (9.3% in the last quarter, though some of that is due to the new corporate accounting rules).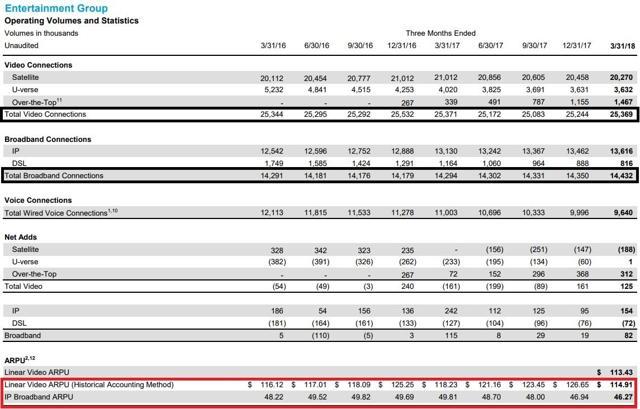 (Source: AT&T earnings supplement)
AT&T did continue to see strong growth in its Mexican wireless business with 543,000 new total subscribers.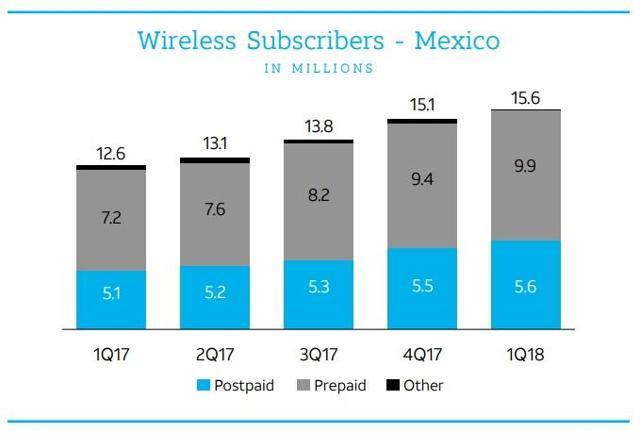 (Source: AT&T earnings presentation)
The issue, again, is that most of those were lower-margin prepaid users. In addition, the Mexican wireless business, while being the company's fastest-growing unit, is also the least profitable.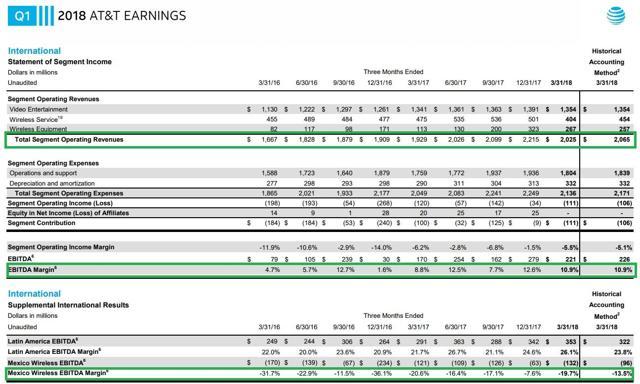 (Source: AT&T earnings supplement)
The good news is that Mexican wireless EBITDA margins are improving steadily. The bad news is that the entire international segment represents a low-margin (though relatively fast-growing) drop in the bucket. For instance, in 2017, all of AT&T's international operations, including its Latin American satellite TV business, made up just 5% of the company's revenue.
All told, AT&T continues to suffer from declining top line growth. The good news is that tax reform and cost-cutting has helped to drive growth in adjusted earnings and free cash flow (what funds the dividend).
| | | |
| --- | --- | --- |
| Metric | 2017 Results | Q1 2018 |
| Revenue | -2.0% | -3.4% |
| Adjusted EPS Growth | 7.3% | 14.9% |
| FCF/Share Growth | 3.9% | -6.7% |
| Dividend Growth (YOY) | 2.1% | 2.0% |
(Source: AT&T earnings release, earnings supplement)
Note that this quarter's decline in free cash flow – what's left over after running the business and investing for growth – is mostly due to the lumpy nature of the company's capex.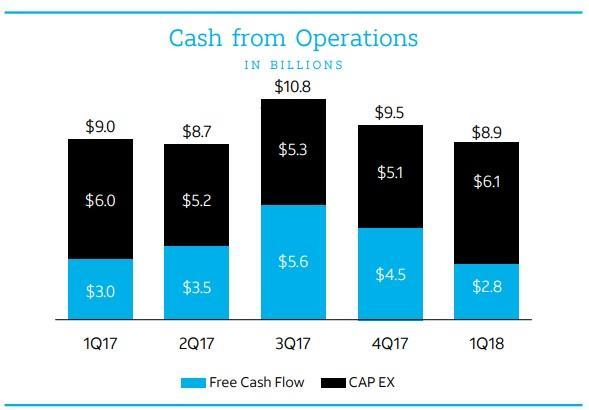 (Source: AT&T earnings presentation)
FCF is cyclical from quarter to quarter, and what investors need to focus on is that management reiterated its early guidance for very strong growth in both adjusted earnings and free cash flow for 2018. In fact, FCF is expected to soar almost 20% to $21 billion this year. That, in turn, means that AT&T's pre-merger dividend cost of $12 billion will result in a very safe FCF payout ratio of just 58%.
| | |
| --- | --- |
| Metric | 2018 Guidance |
| Adjusted EPS Growth | 14.8% |
| Free Cash Flow Growth | 19.3% |
| FCF Dividend Payout Ratio | 58% |
(Source: Management guidance)
Of course, that large increase in the company's bottom line is a one-shot deal created by a combination of tax reform and new accounting changes. Since these tailwinds won't be repeating next year, investors are understandably worried about where AT&T's future growth will come from.
This is the first reason I'm so thrilled to have the Time Warner merger be approved. That $85 billion deal is 50%/50% stock and cash. Note that AT&T is borrowing $40 billion to fund part of the cash portion of the buyout.
| | | | | | | |
| --- | --- | --- | --- | --- | --- | --- |
| Company | Revenue | Forward Adjusted Net Income | Forward FCF | Shares | Adjusted EPS | FCF/Share |
| AT&T | $159.2 billion | $21.6 billion | $21.0 billion | 6.183 billion | $3.50 | $3.40 |
| Time Warner | $31.5 billion | $6.0 billion | $4.3 billion | 0.791 billion | $7.59 | $5.44 |
| Combined | $190.7 billion | $27.6 billion | $25.3 billion | 7.32 billion | $3.77 | $3.46 |
(Sources: Morningstar, AT&T earnings releases, F.A.S.T. Graphs, Management guidance)
Starting in Q3 of 2018, the new combined company will become a true juggernaut, the world's largest telecom/entertainment company with almost $200 billion in annual sales.
More importantly for dividend lovers is the fact that, assuming analyst forecasts for Time Warner's growth are correct, the merger will boost AT&T's adjusted EPS from $3.50 this year to $3.77 in 2019. That's about 8% adjusted EPS growth. Free cash flow per share is expected to increase about 2% but increase the company's total free cash flow to $25.3 billion. That's compared to a new dividend cost of $14.6 billion, meaning that AT&T could be generating post-dividend FCF of $10.7 billion in 2019.
Meanwhile, the good news is that the approval of this merger also means that the $26 billion T-Mobile/Sprint merger is more likely to be approved. Already, AT&T is seeing its ARPU declines decelerating as the price war started by its smaller rivals starts to dissipate.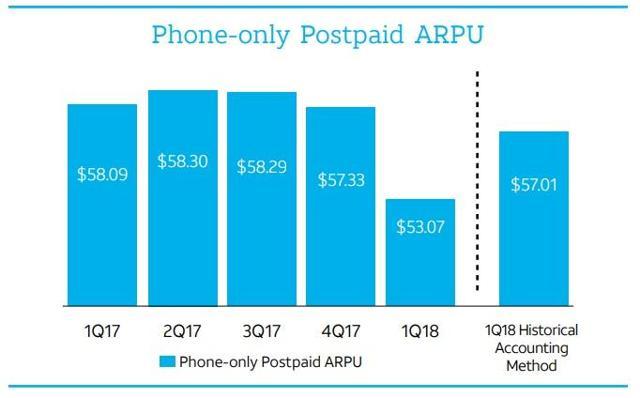 (Source: AT&T earnings presentation)
Analysts expect that US wireless postpaid prices should stabilize in 2019 and then start climbing again as all the major telecoms focus on maximizing cash flow to invest in the coming switch to 5G. If T-Mobile and Sprint end up merging, then the odds are even greater that AT&T will be able to see its ARPU start climbing again in 2020 and beyond.
Or, to put it another way, AT&T's recent struggles mean that the company needed a bridge to get it past its current growth slump. In 2018, tax reform provided that bottom line boost, and in 2019, the Time Warner merger will. That gets the company to 2020, at which point 5G and the company's ongoing transition to streaming should restore its core business units to organic top and bottom line growth.
2. Vertical Integration Could Help Boost AT&T's Top And Bottom Lines
The biggest reason AT&T gave for wanting to buy Time Warner was the latter's wide-moat, industry-leading content. Combined with its own current assets, this will turn AT&T into the world's largest media delivery company with operations in nearly every country.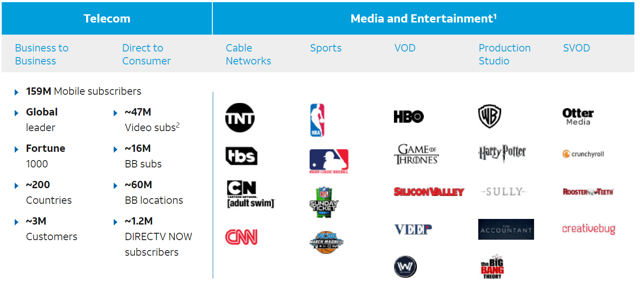 (Source: AT&T investor profile)
The heart of Time Warner's wide-moat assets are its three business units:
HBO & Cinemax: 134 million global subscribers in over 150 countries.
Turner Networks: It owns numerous cable channels, including Adult Swim, Bleacher Report, Boomerang, Cartoon Network, CNN, ELEAGUE, FilmStruck, Great Big Story, HLN, iStreamPlanet, Super Deluxe, TBS, Turner Classic Movies (TCM), TNT, truTV and Turner Sports.
Warner Brothers Entertainment: Produces over 70 TV shows a year and has a film library consisting of over 8,000 titles.
In the age of mobile phones and video-on-demand (streaming), content is king, and Time Warner has one of the world's largest stockpiles of valuable content. It also has deep pockets to constantly make more, including $9 billion it spent last year across HBO, cable channels, and Warner Entertainment.
Time Warner's major competitive advantage is that its cable networks have 90% market penetration in the US, and cable companies are loath to let in new channels (competitors). Which brings us to how AT&T plans to not just benefit from its marginal revenue, earnings, and cash flow, but use this content to stabilize its entertainment group.
DirecTV now is growing much faster than rival products like Dish Network (NASDAQ:DISH)'s Sling TV, Hulu Live, or Sony (NYSE:SNE)'s PlayStation Vue. In fact, within a few quarters, analysts expect DirecTV Now to surpass Sling's current 2.3 million subscriber count, making it the third-largest US streaming service behind Netflix (NASDAQ:NFLX) and Hulu. But remember the problem with DirecTV Now, specifically its lower price.
According to analyst Michael Nathanson, while AT&T is charging $35 per month for the basic DirecTV Now service, thanks to bundling, the average net revenue is actually $31 per month. What's more, content costs are running about $30 per month, and Nathanson estimates that AT&T is actually losing $.26 per month on each DirecTV Now subscriber.
Given that DirecTV Now as well as the company's upcoming skinny TV streaming bundle (AT&T Watch, $15 per month, free to unlimited wireless subscribers) are going to dominate the future of the entertainment segment, the company needs to figure out a way to make them profitable.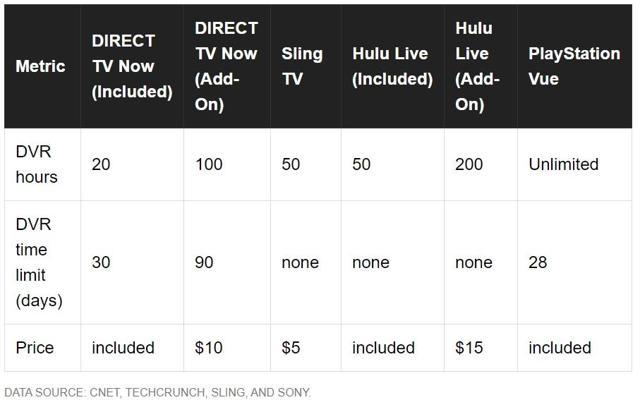 (Source: Motley Fool)
One way AT&T plans to try is offering additional services, such as DVRs, as well as pay-per-view. However, the trouble is that many consumers are drawn to DirecTV Now for its simplicity and relatively low price (compared to cable). This means that the company needs a stronger approach to boosting margins on streaming.
That would be on the cost side, which is where Time Warner's content comes in. By owning many of the channels that are part of its streaming packages, AT&T will be able to lower content costs and turn a profit on its streaming options. But that's only part of the long-term plan to restore its wireless and video businesses to organic growth.
The other is bundling. According to CEO Randall Stephenson, "Bundling allows us to have profitability from that combined account…It also creates higher value, lifetime value, for each of those customers."
Bundling basically means cross-selling its various products by offering discounted prices for customers who subscribe to multiple offerings.


(Source: AT&T earnings presentation)
AT&T has managed to steadily increase its bundled offerings, which now include 30% of postpaid wireless subscribers and 48% of video subscribers, respectively. AT&T Watch, being free to unlimited wireless subscribers, may be able to help boost the company's postpaid ARPU. Combined with the stabilizing of wireless pricing that Morningstar analyst Allen Nichols expects in 2019 (with prices rising in 2020 and beyond), the company's biggest and most profitable segment should once more return to growth.
This provides the company the bridge it needs to get to its big growth catalyst of the 2020s: 5G.
3. Merger Serves As A Growth Bridge Until 5G Takes Off
5G is the next generation of wireless and offers three distinct benefits:
Greater speed (up to 20 GB per second) and data capacity
Up to 200 times lower latency (time to send data packet to receiving device)
The ability to connect a lot more devices at once (such as sensors and smart devices)
Not only does 5G offer the promise of much faster data connections for smartphones, but it's also going to be the backbone of the Internet of Things, or IOT. That's where devices are connected to the internet to allow real-time data gathering and analysis in order to optimize performance, maintenance, and overall profitability. Intel (NASDAQ:INTC) projects that the number of IOT-connected devices will increase from 15 billion in 2020 to 200 million by 2020. And by 2025, some analysts expect the global IOT market to hit $6.2 trillion. Super-fast and efficient telecom networks will be what the mountains of data created by the IOT (which includes driverless cars) runs on. That, in turn, should greatly boost AT&T's potential top and bottom line growth.
The other major growth opportunity in 5G is in gigabit wireless internet. The average home uses 190 GB of data via its internet connection each month. This makes offering home internet service via 4G LTE not practical, since it would overload the network. However, 5G is going to change the game by allowing internet that's potentially up to 40 times faster wirelessly. In fact, AT&T has been experimenting with what it calls Project AirGig, which uses 5G transmitters attached to power lines. According to Andre Fuetsch, president of AT&T Labs and chief technology officer, AirGig could "bring this multi-gigabit, low-cost internet connectivity anywhere there are power lines – big urban market, small rural town, globally."
That could help AT&T win major market share in the internet service provider, or ISP, market. Last year, there were 93 million US subscribers, who generated $118 billion in revenue in 2017. For context, the US wireless market saw revenue of $180 billion last year.
And in Mexico as well, where AT&T is investing $3 billion into expanding its wireless network, AirGig could help the company leverage its large investments in that country to break into the fast-growing but still far from saturated Mexican ISP market.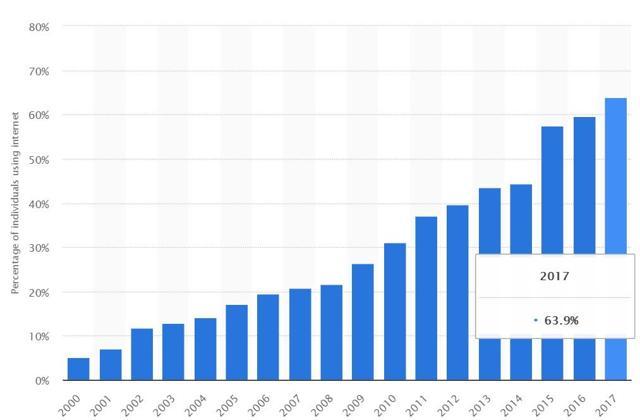 (Source: Statista)
Currently, AT&T is experimenting with 5G in numerous cities and plans to launch full service in 12 major markets by the end of 2018. However, global 5G standards won't be decided until 2019, and the first wireless chips with 5G capabilities are also coming next year. Thus, it will likely be until 2020 or 2021 until the company really starts to see 5G start to contribute significantly to its top or bottom line. Fortunately, the acquisition of Time Warner helps bridge that gap in two important ways.
4. Time Warner Brings The Higher-Margin Business Model….
Being the nation's second-largest wireless provider gives AT&T strong economies of scale. For example, according to Morningstar, AT&T Mobility has 900 subscribers per wireless employee, fully 50% more than T-Mobile's 600. This helps to better amortize high fixed costs over more customers and results in stronger profitability. AT&T is also able to spend relatively less on wireless capex, 16% of revenue compared to T-Mobile's 19%, because its existing network is more developed and requires less expansion (it already covers 99% of the US).
| | | | | |
| --- | --- | --- | --- | --- |
| Company | Gross Margin | Operating Margin | Net Margin | FCF Margin |
| AT&T | 52.8% | 16.3% | 12.3% | 11.3% |
| Time Warner | 41.0% | 22.9% | 20.6% | 13.4% |
| Telecom Industry Average | 48.1% | 8.8% | 4.1% | NA |
(Sources: GuruFocus, Morningstar)
This is why the company boasts some of the industry's best profitability, including net margins that are three times as high as most of its peers. More importantly, despite massive capital spending (over $140 billion in the past five years), AT&T is still able to generate relatively high free cash flow margin.
But as impressive as AT&T's profitability is, it pales in comparison to Time Warner's. That's to be expected, given that Time Warner is in a far less capital-intensive business, where content creation is its biggest expense. Because Time Warner will represent 17% of the combined company, this means that the merger closing should instantly boost AT&T's net margin by 1.4% to 13.7%.
Or, to put it another way, on June 20th, when the merger closes, AT&T will become an 11% more profitable company.
5. Merger Boosts AT&T's Long-Term Growth Potential By 37%
One of the biggest frustrations AT&T investors have had is with the slow growth rate of the last decade. Well, not only is AT&T's FCF/share growth rate expected to increase organically in the coming years (5G and recovery in wireless pricing), but by acquiring the faster-growing Time Warner, investors in this Dividend Aristocrat should see their long-term growth potential boosted by 37%.
| | | | |
| --- | --- | --- | --- |
| Company | Current FCF | 10-Year Analyst FCF Growth Projection | Analyst Projected 2028 FCF |
| AT&T | $21.0 billion | 4.3% | $32.0 billion |
| Time Warner | $4.2 billion | 10.8% | $12.5 billion |
| Combined | $25.2 billion | 5.9% | $44.5 billion |
(Source: Management guidance, F.A.S.T. Graphs)
Note that long-term analyst projections are educated guesstimates, so must always be taken with a grain of salt. That being said, Time Warner is a major purchase, and unlike the Mexican business (2% of revenue), is going to represent a needle-moving (and profitable) deal when it closes.
6. Dividend Profile: High, Safe Yield, With Market-Beating Total Return Potential
| | | | | |
| --- | --- | --- | --- | --- |
| Company | Yield | 2018 FCF Payout Ratio | 10-Year Dividend Growth | 10-Year Total Return |
| AT&T (without merger) | 6.2% | 58% | 3.5% to 4.3% | 9.7% to 10.5% |
| AT&T with merger | 6.2% | 58% | 4.8% to 5.9% | 11.0% to 12.1% |
| S&P 500 | 1.8% | 40% | 6.2% | 8.0% |
(Sources: Management guidance, GuruFocus, F.A.S.T. Graphs, Yardeni Research, Multpl.com)
The most important component of any income investment is the dividend profile, which consists of three parts: yield, dividend safety, and long-term growth potential.
AT&T's yield has now risen to 6.2% (as I write this), thanks to the share price tanking 5% on news of the merger being approved. This means that it is now yielding over three times the paltry payout of the S&P 500. More importantly, at a projected 2018 FCF payout ratio of 58%, that dividend is very well-covered by the company's river of free cash flow.
Of course, there's more to dividend safety than just a low payout ratio. You also need a good balance sheet that allows a company financial flexibility to grow, while preserving the 34 consecutive years' streak of rising dividends.
| | | | | | |
| --- | --- | --- | --- | --- | --- |
| Company | Debt | TTM EBITDA | Debt/EBITDA | TTM Interest Cost | Interest Coverage Ratio |
| AT&T | $163.0 billion | $46.9 billion | 3.5 | $6.8 billion | 6.9 |
| Time Warner | $22.3 billion | $16.9 billion | 1.3 | $1.2 billion | 14.1 |
| Combined | $225.3 billion | $63.8 billion | 3.5 | $9.0 billion | 7.1 |
| Industry Average | | | 2.2 | | 8.2 |
(Sources: Morningstar, GuruFocus)
This is where many worry about AT&T because of the massive amount of debt it will be taking on to close this merger. In fact, it will have the highest debt load in corporate America. And while it's certainly true that the company's leverage ratio and interest coverage ratio are worse than the industry average, the surprising fact is that once the merger closes, AT&T's debt burden won't be any harder to service. That's because Time Warner is large and profitable enough that the far larger company's debt/EBITDA ratio will remain the same and the interest coverage ratio will actually go up a bit.
Net debt for the combined company will be $174.7 billion. With AT&T generating $10.7 billion in annual post-dividend FCF, this means that within about 3.5 years the company will be able to bring its net debt down to about $137 billion and lower its net debt/EBITDA ratio below 2.0 (from its current 2.7).
However, this does mean that while AT&T has the potential for faster dividend growth, the company won't be able to actually achieve that until after it has paid off tens of billions in its new loans. This is why analysts don't expect the company to increase its dividend until 2022 or 2023. That's when dividend growth is expected to increase to 2 cents per quarter per year instead of 1 cent. But the good news is that even with the current rate of dividend growth (2% annually), at its current rock-bottom valuation, AT&T should be able to generate 8.2% annual total returns. This is actually slightly higher than what the broader market is likely to do from its currently stretched valuations.
And if AT&T executes as expected, and returns to faster dividend growth, then this low-volatility blue chip will be likely to generate double-digit total returns that will put the S&P 500 to shame.
7. Valuation: AT&T Is Trading At A Fire Sale Price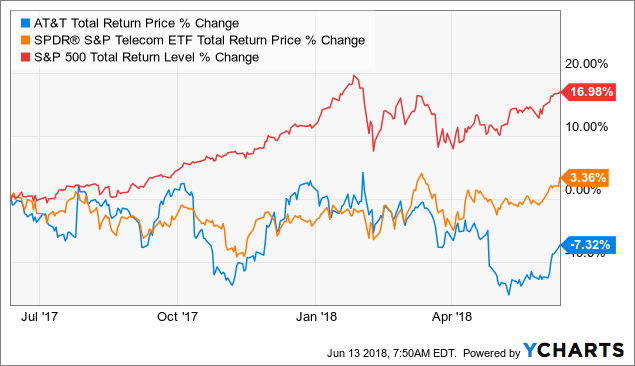 T Total Return Price data by YCharts
It's not been a good year for AT&T shareholders, as the combination of rising interest rates, growth concerns, and merger uncertainty have caused it to badly underperform even the weak telecom sector. However, this underperformance is precisely what has me so excited to recommend the stock right now, because market pessimism has gotten so large that Ma Bell now represents a potentially excellent deep value proposition.
There is no 100% objectively correct way to value a stock, which is why I like to use a three-step approach with my valuation models. This creates a more robust estimate that minimizes the chances of overpaying for a company.
Step 1 is determining whether a company has market-beating long-term total return potential under the Gordon Dividend Growth Model (TR = yield + long-term dividend growth). AT&T passes this screen, even if it maintains its current token dividend growth for far longer than I expect.
The second screen is looking at the most relevant valuation metric – which, in this case, is price/free cash flow (what pays the dividend) – and comparing that to its historical norm. This is because over long stretches of time, valuations tend to be mean-reverting and come back to a relatively fixed point that represents fair value.
| | | | | | | |
| --- | --- | --- | --- | --- | --- | --- |
| Company | Forward P/FCF | Implied 10-Year FCF Growth Rate | Historical P/FCF | Yield | Historical Yield | % Of Time In Last 22 Years Yield Has Been Higher |
| AT&T | 8.0 | -0.3% | 17.2 | 6.0% | 5.3% | 8.8% |
(Source: Management guidance, Morningstar, GuruFocus, YieldChart.com, Benjamin Graham)
Currently, AT&T's price-to-forward FCF is a stunningly low 8.0, which is less than half its 20-year average. Now it's true that the company's growth has slowed dramatically since 1998, which means it deserves a lower multiple. However, 8 times forward FCF means the market is pricing in -0.3% FCF/share growth for the next 10 years. Even with all the growth challenges it faces, I think AT&T's numerous growth catalysts, most notably the Time Warner acquisition, mean that it should easily beat this super-low hurdle rate.
Finally, I like to compare the company's yield to the historical yield, given that my primary focus is on dividends. And just like with price/FCF, yields are mean-reverting and tend to approximate intrinsic value well over time. Currently, AT&T's 6.2% yield is 17% above its 13-year median yield, indicating the stock is likely 17% undervalued. That's in line with Morningstar's fair value estimate of $40 (19% undervalued), based on a dual stage, long-term discounted free cash flow model.
What's more, AT&T's yield has only been higher 8.8% of the time in the past 22 years. This likely means the stock is close to bottom, which creates an even larger margin of safety for investors buying today. This is why I'm strongly recommending AT&T for anyone seeking a source of low-volatility, high-yield income. That is assuming you're comfortable with the company's risk profile.
Risks To Consider
While AT&T is a low-risk blue chip, that doesn't mean the company doesn't face numerous challenges in the coming years. For one thing, the company's wire-line business is expected to see negative long-term growth as its legacy land line business continues to deteriorate. Meanwhile, cable companies like Comcast (NASDAQ:CMCSA) have made good strides in recent years in winning market share from AT&T, which is why its broadband subscriber base has been growing at a snail's pace. Now, ISPs are also going after enterprise customers, which has previously been an area of major strength for AT&T. This only puts more pressure on management to execute well on 5G in order to reverse these trends and win back market share in the company's internet business.
Next, we can't forget that the capital-intensive nature of the telecom business means that AT&T's debt load might act as a competitive disadvantage in future. That's because the company must continue investing heavily, not just into new 5G infrastructure but into maintaining its existing 4G LTE networks. This is because 5G and 4G are going to have to co-exist for at least a decade before all customers are switched over to the new and superior standard.
Speaking of debt, AT&T's mountain of bonds, while not yet threatening the dividend, is still going to be the highest in corporate America. This means that it will need to make deleveraging a priority. This means dividend growth lovers are going to be waiting until at least 2022 or 2023 before they can see faster payout growth. And of course, there's no guarantee that the company will actually increase its dividend faster once its balance sheet is stronger.
After all, CEO Randall Stephenson has shown himself a fan of empire building on an epic scale. That includes highly questionable capital allocation decisions, such as overpaying for DirecTV (a company already in decline at the time), as well as entering the monstrously competitive Mexican wireless market. While AT&T's subscriber base has been growing quickly in Mexico, America Movil (NYSE:AMX) is the juggernaut in that country with seven times the number of subscribers. It also commands nearly 60% market share in ISP, meaning that AT&T's ability to leverage its Mexican wireless investment via 5G may prove fruitless.
Another concern I have is that now that the merger approval will kick off a wave of media industry consolidation. Already, Comcast is preparing a hostile all-cash (and debt) bid for Twenty-First Century Fox (NASDAQ:FOXA). Disney (NYSE:DIS) – which is buying Fox – is apparently talking with bankers about borrowing to add a cash component to its all-stock deal to counter the coming Comcast bid. Meanwhile, CBS Corp. (NYSE:CBS) and Viacom (NYSE:VIA) are locked in a complex soap opera, and some analysts expect to eventually see the two companies re-merge (CBS was spun off in 2006).
Then, there's all manner of smaller but still large media companies that the market is now buzzing are potential takeover candidates, including Lions Gate Entertainment (NYSE:LGF.A), which is shopping itself around to potential buyers. The point is that AT&T's win in court is expected to set off a media merger mania. And so, in a few years, I wouldn't be surprised if Stephenson decides he needs to return to the content well with yet another medium-to-large sized deal – one that could end up replacing the debt the company has paid off with fresh loans that make it impossible for AT&T to accelerate its dividend growth beyond the current token 2% annual rate.
Finally, we can't forget that there is no guarantee that the company will be able to convert the promise of 5G into the kind of growth analysts currently expect. T-Mobile, whether or not it merges with Sprint, is going to remain a fierce competitor – one whose CEO has taken a Jeff Bezos-like approach to winning market share by focusing on the best possible customer experience (including lower costs). This means that T-Mobile, even if swallows Sprint (and thus becomes bigger than AT&T in wireless), might end up maintaining negative pricing pressure, causing AT&T's ARPU to flatline or even continue drifting lower.
With the company's wireline business expected to continue declining steadily (and video ARPU drifting lower by 1% per year due to increased streaming), AT&T has a lot of growth headwinds to overcome in order to live up to its full potential. Fortunately, the company's rock-bottom valuation and sky-high yield means investors buying today are being adequately compensated for these risks.
Bottom Line: Time Warner Merger Means AT&T Has Vastly Improved Long-Term Growth Prospects And Is A Potentially Great Buy Today
Don't get me wrong, AT&T's growth challenges are not going to be cured by acquiring Time Warner. However, the successful completion of the merger will provide numerous benefits, both in the short and long term. These include a faster-growing, higher-margin business, important assets to stabilize its video and wireless units, and a growth bridge to the 5G ramp-up (in 2020 and beyond).
And while the dividend growth-boosting effects are likely still far in the future (2022 or 2023), in the meantime you still get paid very handsomely to wait for the company to execute on its long-term growth potential. And even if AT&T ends up executing rather poorly on its growth catalysts, at today's price investors are unlikely to lose money over time. Rather, they will probably enjoy high, safe, and stable income from this Dividend Aristocrat for the foreseeable future.
Disclosure: I am/we are long T.
I wrote this article myself, and it expresses my own opinions. I am not receiving compensation for it (other than from Seeking Alpha). I have no business relationship with any company whose stock is mentioned in this article.