I have always had a hard time making sense of Amazon (AMZN) as an investment vehicle. I continue to believe that talking about the company and the stock in terms of next quarter's earnings or this year's revenues is futile. After all, a forward P/E of 110x or an EV/sales of 4.0x (on razor-thin margins) could only lead to one logical conclusion: AMZN is an overpriced stock to avoid.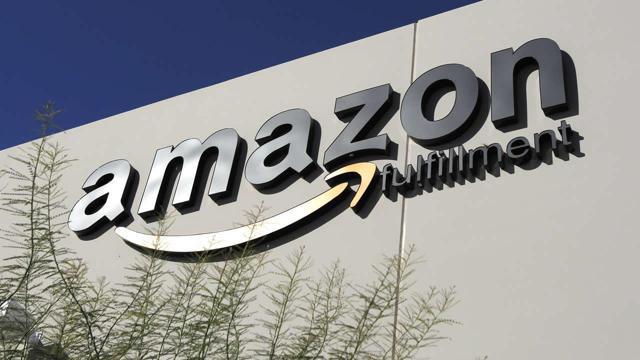 Credit: ABC 13 Eyewitness News
Roughly one year ago, I argued instead that investing in Amazon required "2020 vision". That meant that, in my opinion, one must try and project the company's results at least three years out in the future, ideally more, to decide whether buying the stock today makes sense.
To do so, I revisit my 2025 projections from back in the early part of 2017 and make adjustments given the developments of the past one and a half year. By doing so, I hope to answer (or at least take a stab at answering) a couple of key questions: does AMZN deserve its nearly $1 trillion valuation? And if so, can the stock continue to head up, perhaps at the same 44% per year pace that it has experienced in the past five years?
Deeper roots in North America
The North America segment represented a sizable 60% of Amazon's total revenues in 2017, and its growth, surprising to some, has not shown any sign of slowing down. The company seems to have used a strategy of horizontal expansion to keep momentum going strongly – think, for example, of the Whole Foods acquisition that not many saw coming, or Amazon's head-first dive into content creation and distribution with Prime Video. Despite the richer fulfillment, marketing, and content costs that the growth strategy demands, the North America segment has seen unadjusted operating profits rise by a factor of four YOY last quarter.
Last year, I believed Amazon could deliver what now seems like a very timid 20% revenue increase in 2018 that would slowly dwindle to the low single digits by 2025. Today, I recognize that my expectations have been set too conservatively: growth in the first half of 2018 has reached an impressive 45% already – although comps should get tougher by this year's holiday season. I now do not expect the revenue increase to dip below 10% until 2025, with near-term prospects looking much rosier than I originally envisioned.
International expansion
This is perhaps Amazon's least developed segment. After having transformed the retail landscape and disrupted other industries (like media) in the U.S. and neighboring markets, quite a bit more work is left to be done beyond the North American borders. Roughly 18 months ago, when international sales of $44 billion in 2016 had been growing at a 24% clip, the company's CFO spoke of fulfillment expansion being more balanced between domestic and global in order to address the international opportunity.
Since then, international revenues have increased at an average 25% rate over the past six quarters, with the most recent holiday season (one of Amazon's most impressive) experiencing robust growth of 29% that was followed by 1Q18's even better 34%. Amazon seems to have a blank canvas in terms of what product or service initiatives it may choose to pursue in what countries – it seems to me that Prime and Alexa-enabled devices have been key priorities. Also very importantly, scale (of fulfillment infrastructure and marketing efforts, for example) is finally providing some lift to profitability, and GAAP operating loss has started to narrow.
In 2017, I foresaw international revenue growth landing at 30% in 2018 and declining steadily towards GDP-like growth within eight years. Today, I maintain my expectations for top-line growth in the near term but see it declining at a less steep trajectory in the coming years.
AWS execution
If I ever considered buying AMZN in the past, Web Services was likely a key reason to do so – I elaborated further in my two-year-old but still relevant 2016 article on the subject. The relatively small segment (12% of total revenues in 2Q18) is an able generator of op profits (55% of total company's last quarter) and gains of scale here are likely to support Amazon's margins going forward.
As it turns out, my mild fears over fierce competition and price pressures in the cloud storage, and computing spaces have proven to be a bit overdone. Amazon has been able to reignite growth in AWS in the past three to four quarters, as the graph below illustrates. This was probably enabled by a combination of the secular transition to cloud solutions, a strong macroeconomic environment that has encouraged digital infrastructure investments, and Amazon's competence at providing a good product at a competitive price despite the success of competing services like those of peer Microsoft (MSFT).
I now expect cloud services growth to surpass the 40% mark in 2018, with the decline over the next eight years averaging about four percentage points per year. See historical trend in AWS revenues and top-line growth below.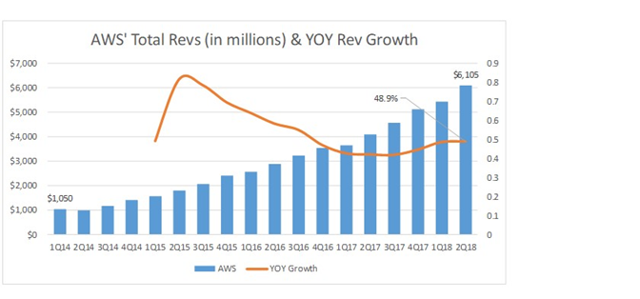 Source: DM Martins Research, using data from company reports
Plugging in the numbers
As evidenced in the narrative above, Amazon has delivered well beyond my early 2017 expectations. Despite the size of the company, one of the largest in the world, there seems to be quite a lot of revenue and op profit growth opportunities yet to be realized, from horizontal expansion domestically to international penetration to gains of scale driving increased margins.
Looking at the near term first (i.e. next 12-18 months), I believe the Street's expectations for 2019 revenue growth of 22% suggests to me a significant deceleration in Amazon's footprint expansion – something that I find unlikely, absent a more severe deterioration in macroeconomic fundamentals. Therefore, I would not be surprised to see upward revisions in top-line estimates in the upcoming months, should Amazon continue to execute as well as it has over the past few years.
Switching to the long term (two to five years at least), I don't find it unreasonable to project double-digit revenue growth through 2025 which, coupled with expanding margins, might conceivably produce what I estimate might be $40 in EPS by 2021 (roughly $20 billion in net income and 500 million shares outstanding) vs. $25/share projected for next year. Should Amazon be able to deliver against this aggressive growth benchmark, it is unlikely that its stock would suffer much in terms of multiple contractions. At a forward earnings multiple of 100x, EPS of $40 would imply $2 trillion in market cap by the end of 2020 – roughly 37% annualized share price appreciation that looks doable in the context of trailing five-year trends.
Those optimistic enough to believe that the Amazon story has barely begun may find today's valuation justifiable and see an investment in the stock still enticing. To them, AMZN may have lost the race to $1 trillion in market cap to Apple (AAPL). But if all goes well, the stock could still rush ahead and beat its peer at becoming the first ever $2 trillion company.
Note from the author: If you have enjoyed this article, follow me by clicking the orange "Follow" button next to the header, making sure that the "Get email alerts" box remains checked. And to dig deeper into how I have built a risk-diversified portfolio designed and back-tested to generate market-like returns with lower risk, join my Storm-Resistant Growth group. Take advantage of the 14-day free trial, read all the content written to date and get immediate access to the community.
Disclosure: I am/we are long AAPL, MSFT.
I wrote this article myself, and it expresses my own opinions. I am not receiving compensation for it (other than from Seeking Alpha). I have no business relationship with any company whose stock is mentioned in this article.
Additional disclosure: I may own AMZN indirectly through passive ETFs (exchange-traded funds).