It's one thing when jails are successful in housing and rehabilitating prisoners, but when those jails themselves become dysfunctional, something has to give. We were originally very positive on the concept of private prison ownership, knowing that the government couldn't handle or didn't want to handle the workload. But with its own set of issues and challenges, we are throwing in the towel on this Jailhouse REIT.
CoreCivic Inc. (CXW) (formerly Corrections Corporation of America) is a real estate investment trust company specializing in correctional, detention, and residential reentry facilities and prison operations. It also makes certain healthcare, food, work and recreational programs available to offenders as well as providing a variety of rehabilitation and educational programs like basic education, faith-based services, life skills and employment training, and substance abuse treatment – programs that intend to help reduce recidivism and prepare offenders for their successful reentry into the society upon their release.
It earns revenue on an inmate per-day based on actual or minimum guaranteed occupancy levels. In 2016, the company recorded $1.9 billion revenue. It has 13,755 employees and is the largest player in the correctional facilities industry with 34% market share. It owns 57% of all privately owned correctional and detention capacity.

Source: CoreCivic Investor Presentation
If Planning To Visit
As of September 30, 2017, CoreCivic owned 79 real estate assets and manages 7 additional facilities owned by its government partners. It owns 44 correctional facilities with 64,064 bed capacity and manages 7 facilities with total bed capacity of 8,769 beds. It leases 2 correctional facilities with 4,960 beds capacity and leases 7 residential centers with a total of 1,047 beds capacity to other operators and leases another 3 properties with total area of 30,000 sq. ft. to the federal government. It also operates 23 residential reenter centers with total capacity of 4,792 beds.
Aside from its principal executive offices in Nashville, TN, it also owns two corporate office buildings.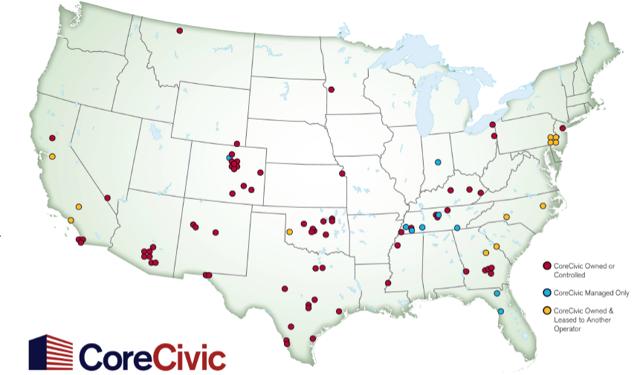 Source: CoreCivic Investor Presentation
Customers/Key Buyers
CoreCivic's customers consist of federal and state correctional and detention authorities. Its key federal customers include the Federal Bureau of Prisons (BOP), the United States Marshals Service (USMS), and U.S. Immigration and Customs Enforcement (ICE).
Contracts from federal correctional and detention authorities account for about 51% of the company's revenue whereas contracts from state customers account for about 42% of its revenue. Most of these contracts contain clauses allowing the government agency to end the contract at any time without cause. Moreover, these contracts are also subject to annual or biannual legislative appropriation of funds.
Aside from diversifying within federal, state, and local agencies, the risks of ending a contract prematurely is that CoreCivic has staggered contract expirations with most of its customers having multiple contracts. In the past, BOP has tended to let contracts end rather than end them prematurely as it is dependent on private prisons to house low-security inmates – typically undocumented male immigrants.
We knew about the concentration of government dependence when we invested in the stock but have become increasingly concerned with both the lack of inmate growth (see below) and the potential for government decisions that could adversely affect revenues – particularly in a highly polarized political environment that frankly, we find unpredictable.

Source: CoreCivic Investor Presentation
Recent Trends
Because the majority of the company's revenue come from the federal government, its contracts are susceptible to annual or biannual appropriations, and having short terms of just three to five years, CoreCivic could be largely affected by an impending government shutdown. At present, immigration policy is one of the major issues wherein the Republicans and Democrats have opposing stances. For example, from January 19th to the 22nd, the U.S. entered a government shutdown after the two parties failed to come to an agreement about the funds allocated to immigration issues like the Deferred Action for Childhood Arrivals (DACA).
With the U.S. Immigration and Customs Enforcement being one of the major customers of CoreCivic, the company is directly affected by these shutdowns.
During a shutdown, the government will not be able to pass any short-term spending bills that allow budget allocations to be released to various agencies. Companies like CXW receive fixed monthly payments so the BOP may not be able to release funds or pay CoreCivic for a short period of time, depending on when and how long the shutdown occurs – resulting in cash flow and working capital challenges. Luckily, the government shutdown did not last very long, but the potential for a similar risk in the future is still relevant.
Another trend that is likely to affect CoreCivic's business is the continuous decline in the number of prisoners. The number of prisoners under state and federal jurisdiction has declined by 7% from 2009 when the U.S. prison population peaked (See the table below). Federal prison makes up 13% of the total U.S. prison population and contributed 34% of the decline in the total prison population in 2016.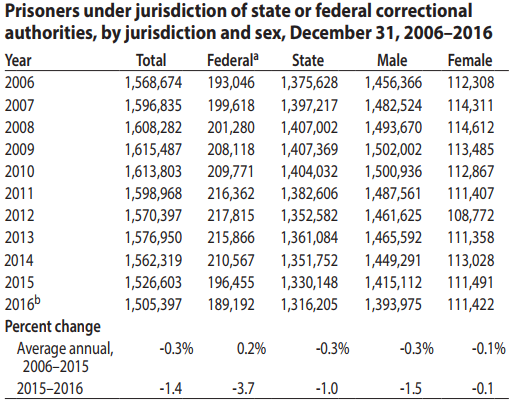 Source: U.S. Department of Justice
Accordingly, prisoners being held in private prisons have declined. According to Pew Research, after a period of steady growth, the number of inmates being held in private prisons has declined since 2012 and continues to represent a small share of the nation's total prison population. We're not confident this trend will reverse.
Another reason for the declining population in private prisons is the growing government commitment to progressive criminal justice, particularly to nonviolent offenders – low-security prisoners who are catered by private prisons. For example, the recommended mandatory minimum sentencing for nonviolent drug traffickers has been reduced. These progressive trends are likely to lead to further decreases in inmate populations.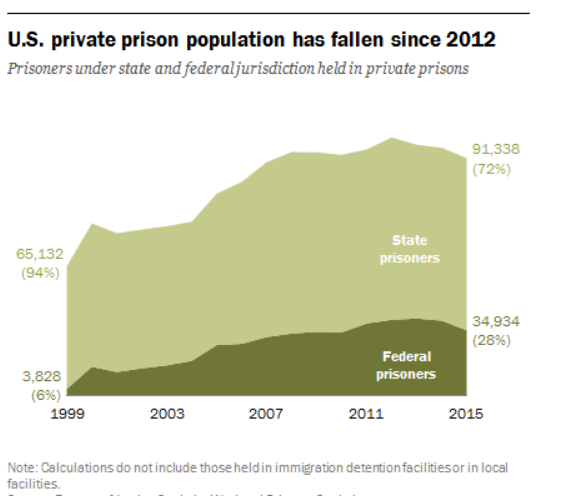 Source: Pew Research
In August 18, 2016, the DOJ also issued a memorandum to the BOP directing that as each contract with privately operated prisons expires, BOP should either decline to renew contacts or substantially reduce scope in line with the BOP's inmate population.
However, despite the said memorandum, BOP did exercise a two-year renewal option for CoreCivic's McRae Correctional Facility. Moreover, in February 2017, the Department of Justice also reversed the memorandum to phase out private prison. It argues that this policy will impair the government's ability to meet the future demands of the federal prison system. This decision saves the private prison industry from the risk of being phased out in the near future but may only push that decision out a few years. The uncertainty worries us.
To make matters worse, a class action lawsuit (Grae v. Corrections Corporation of America et al.) was filed against CoreCivic's current and former offices in the United District Court for the Middle District of Tennessee. The lawsuit alleges that from February 27, 2012 to August 17, 2017, the company made misleading or false information and public statement regarding its operations, programs, and cost-efficiency factors to inflate its stock price. CoreCivic insists that these accusations are without merit but it still puts CXW and private prisons in a negative light.
Lastly, CoreCivic has also been receiving criticisms about its services. Complaints were received from Trousdale Turner Correctional Center in Hartsville after allegedly failing to address the concerns of prisoners and their families, including the healthcare needs to diabetic inmates. The scabies outbreak in its Metro-Davidson County Detention Facility is also cited as an example of its negligence to protect the wellbeing of prisoners. These lawsuits do not help CoreCivic's image especially after it has laid off 500 employees after losing three jail contracts in Rusk, Jack, and Willacy counties.
Outlook
According to IBISWorld, the correctional facilities industry revenue is expected to grow minimally at an annual rate of 0.1% to reach $5.3 billion from 2017 to 2022, but industry profit is not expected to rise significantly. The trend in the number of prisoners will slow down the growth of the industry despite the overcrowding problem in the state prisons, which may or may not compensate for decreased demand for its services at the federal level.
Overall, we do not view the company's prospects favorably in light of industry trends, governmental risks, and reputational image that can affect fundamentals and create unwanted headline risk. For this reason, we are selling CXW out of the REIT Portfolio.
America is the land of the second chance – and when the gates of the prison open, the path ahead should lead to a better life. – George Bush
Disclaimer: Please note, this article is meant to identify an idea for further research and analysis and should not be taken as a recommendation to invest. It is intended only to provide information to interested parties. Readers should carefully consider their own investment objectives, risk tolerance, time horizon, tax situation, liquidity needs, and concentration levels, or contact their advisor to determine if any ideas presented here are appropriate for their unique circumstances.
Past performance is not an indicator of future performance.
Investing in any security has risks and readers should ensure they understand these risks before investing.
Real Estate Investment Trusts are subject to decreases in value, adverse economic conditions, overbuilding, competition, fluctuations in rental income, and fluctuations in property taxes and operating expenses.
This post is illustrative and educational and is not a specific offer of products or services.
Information on this blog is not an offer to buy or sell, or a solicitation of any offer to buy or sell the securities mentioned herein, nor is the author compensated by any of the products mentioned.
Information presented is believed to be factual and up-to-date, but we do not guarantee its accuracy and it should not be regarded as a complete analysis of the topics or subjects discussed.
Information presented is not believed to be exhaustive nor are all the risks associated with the topic of each article explicitly mentioned. Readers are cautioned to perform their own analysis or seek the advice of their financial advisor before making any investment decisions based on this information.
Investment decisions should be based on an individual's own goals, time horizon, and tolerance for risk. Nothing in this content should be considered to be legal or tax advice and you are encouraged to consult your own lawyer, accountant, or other advisor before making any financial decision.
All expressions of opinion reflect the judgment of the author, which does not assume any duty to update any of the information
Any positive comments made by others should not be construed as an endorsement of the author's abilities to act as an investment advisor.
Check out ROI FREE for 2-weeks. Sign up Here
Disclosure: I/we have no positions in any stocks mentioned, and no plans to initiate any positions within the next 72 hours.
I wrote this article myself, and it expresses my own opinions. I am not receiving compensation for it (other than from Seeking Alpha). I have no business relationship with any company whose stock is mentioned in this article.