Have you ever owned a royalty LP? Usually, there's a fixed amount of assets for which the LP gets paid royalty interests in a variety of ways, and a target termination date, usually with no growth. The reserves are just drawn down, and may or may not be replaced.
However, Kimbell Royalty Partners LP (KRP) is a royalty LP with a difference – it's actively managed, meaning that it can grow its interests through acquisitions and dropdowns. This is precisely what KRP's management has done. Since its February 2017 IPO, production has grown 19%, and revenue has grown 44%:

(Source: KRP site)
This, in turn, has led to 40% distribution growth since the IPO: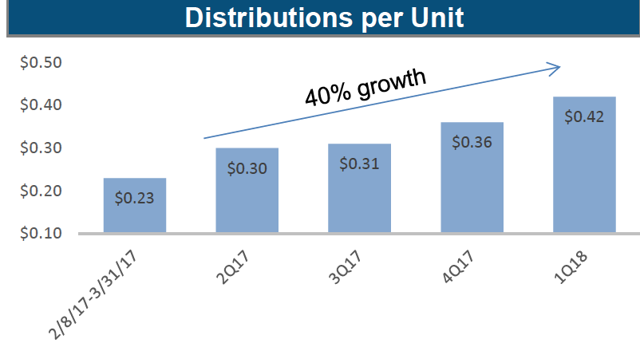 (Source: KRP site)
Profile:
KRP is based in Ft. Worth, TX, and is managed by its general partner, Kimbell Royalty GP, LLC, and owns mineral and royalty interests in approximately 5.7 million gross acres in 20 states and in nearly every major onshore basin in the continental United States, including ownership in more than 50,000 gross producing wells with more than 30,000 wells in the Permian Basin.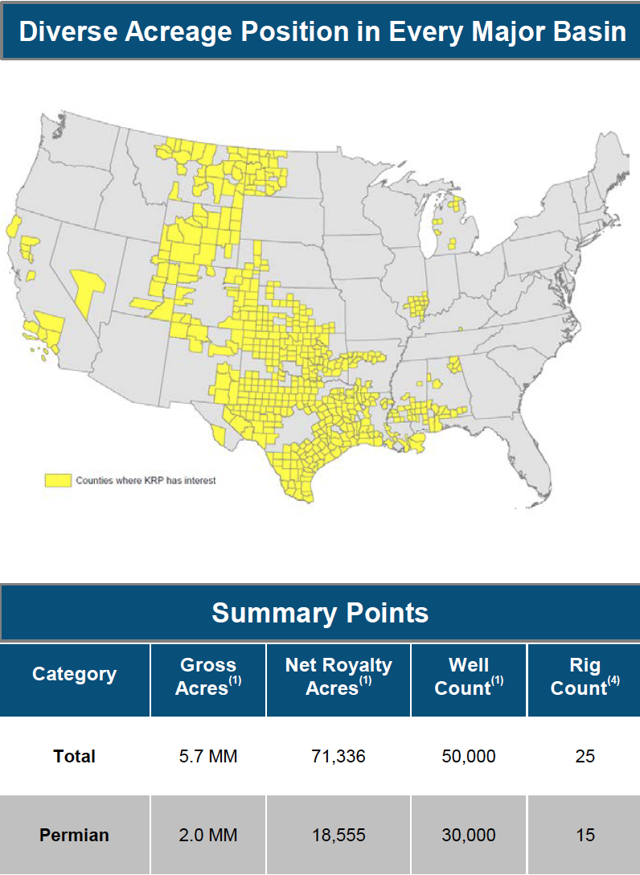 (Source: KRP site)
KRP has ~35% of its gross acres and 60% of operators' rigs in the very active Permian Basin, but it also has a presence in several other major production areas, which gives it some asset diversification: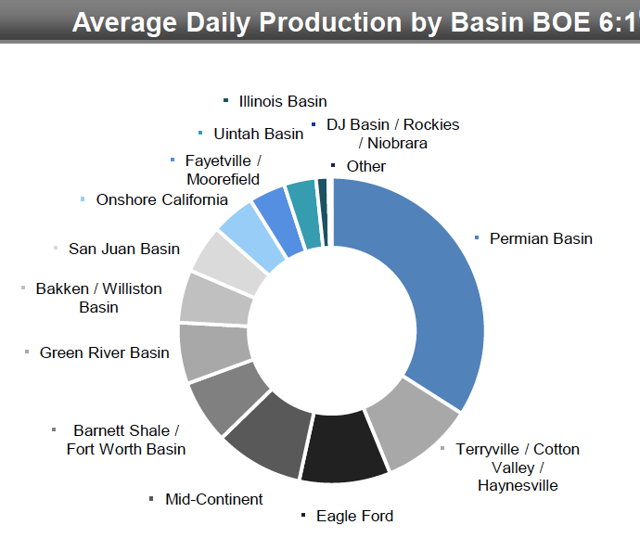 (Source: KRP site)
Management succinctly pointed the advantage of KRP's royalty setup on the Q1 '18 earnings call:
"We are (a) pure mineral and royalty company with no working interest unlike some of our peers, and with no operating costs or capex requirements. We are currently generating 9.6% cash on cash yield with a tax yield of over 90%."
The infographic below details the cycles of KRP's mineral leases. Unlike a working interest, in which an LP shares production costs, KRP's receives royalties, typically 20% – 25%, based upon revenues from mineral leases, with the operators assuming all production costs.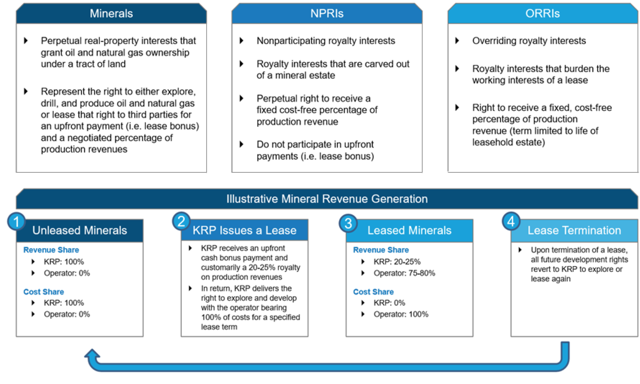 (Source: KRP site)
Here's a look at KRP's proved developed reserves and proved undeveloped reserves, as of 12/31/17: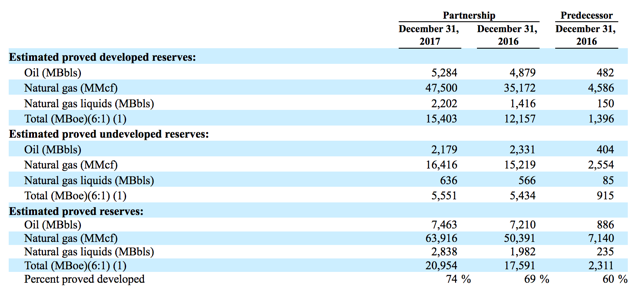 (Source: KRP 2017 10K)
Proved developed reserves comprised 74% of KRP's total reserves, with production evenly split between oil and NGL liquids vs. natural gas. However, 73% of KRP's revenues came from oil and NGL liquids, and 27% came from natural gas:

(Source: KRP site)
KRP's acreage has an overall average breakeven price of $40.00 due to its concentration in the Permian, SCOOP, and STACK production areas. Although its royalties are based upon revenues, these lower cost areas are attractive to operators, which aids KRP's leasing program.
(Source: KRP site)
Distributions:
Like most of the LPs we cover in our articles, KRP pays in a Feb-May-Aug-Nov. cycle.
We've added KRP to our High Dividend Stocks By Sector Tables (in the Basic Materials section).

In general, royalty LPs pay out all of their cash available for distribution – CAFD – to unitholders, so their distribution coverage is usually ~1X, which is what it has been for KRP over the past three quarters. Due to KRPs not having any capex costs, its CAFD is very close to its EBITDA amounts:
Taxes:
Although KRP currently issues a K-1, management intends to convert the company to a C-Corp structure soon. Unitholders would receive a 1099 instead of a K-1, after this conversion.
They mentioned this on the Q1 '18 earnings call, referring to one of their competitors, Viper Energy Partners, (VNOM):
"we definitely saw the 30%-plus uptick in Viper's price when they converted to a C-Corp. And I think that the market seems to be valuing the liquidity that generates. It opens an investor base of roughly 60 times greater than what the existing MLP universe is."

They also stated on the press release for the Q3 deal: "Increased liquidity in the stock attracting new people that would rather have 1099 than a K-1, we think is very attractive for us."
A Big Deal Coming In Q3 '18:
"On 5/29/18, KRP announced that it had agreed to acquire the mineral and royalty interests held by Houston-based Haymaker Minerals & Royalties, LLC and Haymaker Resources, LP (collectively, "Haymaker") in a transaction valued at approximately $404M."

"The purchase price for the acquisition is comprised of $210M in cash and 10 million common units of Kimbell, valued at approximately $194M. KRP will raise the cash portion of the purchase price through a private placement of 7.00% Series A Cumulative Convertible Preferred Units to an affiliate of Apollo Global Management, LLC, for gross proceeds of $110M, and through borrowings of $114M under a new $200 million revolving credit facility. The Boards of Kimbell and Haymaker have unanimously approved the acquisition, which is expected to close in the third quarter of 2018, subject to customary closing conditions."
Bob Ravnaas, Chairman and CEO of Kimbell, said,
"This is a transformative acquisition for our company which we expect to deliver significant value and benefits through both increased scale and significant operating leverage that will drive improved profitability."

"We expect the acquisition to be immediately accretive to distributable cash flow per unit." (Source: KRP site)
Although this deal will increase KRP's unit count by 10M units, to ~26.34M units, the acquisition should increase KRP's production by 148%, which translates into a production rise of 56% per million common units. Its pro forma Net Royalty Acres will grow by 60% to more than 114,000 net acres.

Management expects this acquisition to increase KRP's DCF/unit by 15% initially, (accounting for one-time integration costs), and then by 20% on a run-rate basis.

(Source: KRP site)
Based upon the Q1 '18 DCF figure of $0.42/unit, this 20% rise implies DCF of $0.50/unit, which would translate into a ~9% yield:

Risks:
Asset Impairment Charge – KRP took a non-cash $54M impairment charge to its properties in Q1 '18. By law, they must periodically assess the carrying value of their properties. The net capitalized costs of proved properties aren't allowed to exceed their future net revenues discounted by 10%. This risk increases during commodity pricing downturns.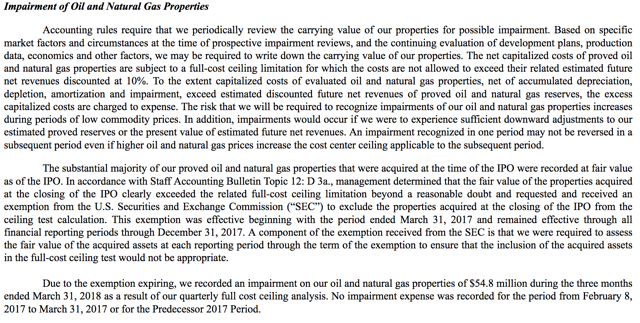 (Source: Q1 '18 10Q)
This non-cash charge resulted in a negative net income of -$52.82M in Q1 '18. Excluding the $54M charge, adjusted net income was $2.28M: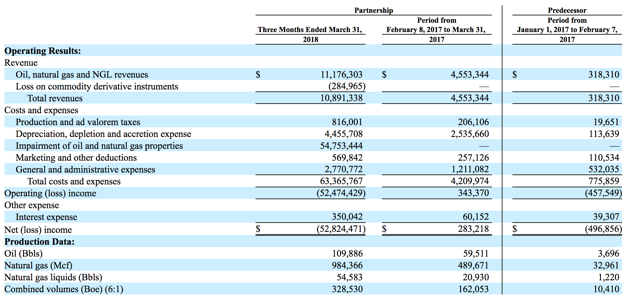 (Source: Q1 '18 10Q)
Commodity Prices – KRP has exposure to commodity prices, for which it has a partial hedging program in place. In Q1 '18, management extended KRP's hedging program to include hedges through Q1 2020. They hedged ~30% to 40% of oil and natural gas revenue streams using fixed price swaps.
"At March 31, 2018, fixed price swaps for the remainder of 2018 consisted of 32,450 Bbl of oil (fixed rate at $56.00 per Bbl) and 265,650 MMBtu of natural gas (fixed rate at $2.71 per MMBtu).

Fixed price swaps for 2019 consisted of 43,070 Bbl of oil (fixed rate at $53.07 per Bbl) and 352,590 MMBtu of natural gas (fixed rate at $2.76 per MMBtu).

On March 29, 2018, we entered into additional fixed price swaps for the first quarter of 2020 consisting of 11,011 Bbl of oil (fixed rate at $56.03 per Bbl) and 96,915 MMBtu of natural gas (fixed rate at $2.94 per MMBtu)." (Source: KRP site)
Additional Positive Factors:
Premium Permian Land Values – KRP owns a lot of increasingly valuable land in the Permian Basin, which it can also monetize, via asset sales. In Q2 '18, management sold a minor asset, acreage in the Delaware Basin, which was less than 0.06% of KRP's total net royalty acres, for ~$9M. These 41 net royalty acres were only producing ~24 Boe/day, which is less than 0.7% of the company's total production.
"Permian Royalty assets are very expensive right now. We are (were) fortunate to acquire a lot of Permian assets before the latest drilling boom at extremely attractive prices. So this sale will allow us to monetize a small portion of our previous investment and maximize value for our unitholders. We are very well positioned in the Permian with about 35% of our total Royalty portfolio situated there, and we may consider additional sales when we have the opportunity to deliver compelling value to our unitholders." (Source: Q1 '18 earnings call)
Future Dropdowns – KRP's sponsors also have additional assets which they can drop down to KRP, with production and reserve characteristics similar to Kimbell's existing portfolio. In fact, these assets are larger than KRP's current holdings, so there's plenty of room for growth via dropdowns.
Performance:
Early unitholders have done well with KRP – it's up 21.82% since its February IPO and has risen 35.38% in 2018. It has risen from ~$17.50 to ~$22.00 after its well-received Q1 '18 earnings report in early May.
Analysts' Price Targets:
Even with that big rise, KRP is still 8.3% below analysts' lowest price target of $24.00 and is 14.73% below the $25.80 average price target.
Valuations:
We took a look at KRP's valuations vs. two peers, BSM Minerals LP (BSM) and Viper Energy Partners LP (VNOM). Currently, KRP is a much smaller entity, with a market cap of just $380M, vs. $3.7B and $3.6B for BSM and VNOM, respectively. KRP tops the list for yield, at 7.64%, and has the cheapest price/book by far, at 1.82. Its price/CAFD per unit is in the middle of the group, as is its price/sales.
Leverage:
KRP is the most conservatively leveraged of these three LPs, with a net debt/EBITDA of 1X, and a tiny debt/equity of just .15. Its current ratio is strong, at 6.07X, but VNOM wins the prize there, at 21.60. Its net debt/EBITDA ratio improved from 1.2X, as of 12/31/17, to 1X in Q1, due to increased production and higher commodity prices.
Although the Haymarket deal has a pro-forma debt/EBITDA leverage of 2X, management is committed to keeping KRP's debt/EBITDA leverage below 1.5X on a long-term basis.
Debt and Liquidity:
KRP has a credit facility borrowing base of $100M, and commitments of $50M, leaving availability of $50M. KRP had borrowings of $30.8M as of 3/31/18, with current liquidity of $69 million if they exercise the accordion feature that doubles their revolver to $100 million.
However, in connection with the Haymarket acquisition, they secured a new, larger revolving credit facility of $200M, which activates upon the closing of that deal in Q3 '18. They'll draw $114M to close the deal, leaving $64 million in undrawn capacity.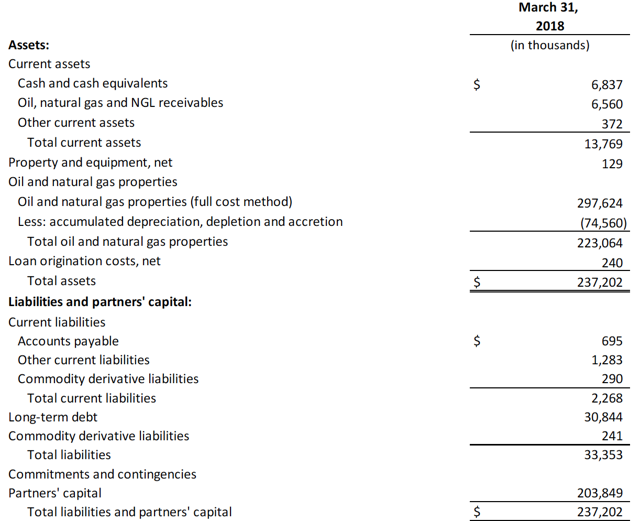 (Source: KRP site)
Options:
KRP doesn't have options available yet, but you can track more than 30 option-selling trades daily in our Covered Calls Table and our Cash Secured Puts Table.
Summary:
We rate KRP a long-term buy, based upon its attractive yield, and its expected distribution and production growth.
All tables furnished by DoubleDividendStocks.com, unless otherwise noted.
Disclaimer: This article was written for informational purposes only and is not intended as personal investment advice. Please practice due diligence before investing in any investment vehicle mentioned in this article.
Our new Marketplace service, Hidden Dividend Stocks Plus, focuses on undercovered, undervalued income vehicles, and special high yield situations.
We scour US and world markets to find solid income opportunities with dividend yields ranging from 5% to 10%-plus, backed by strong earnings.
These stocks are often small cap, low beta equities that offer stronger price protection vs. market volatility.
We publish exclusive articles each week with investing ideas for the HDS+ site that you won't see anywhere else.
Our strategy is working in 2018 – the HDS+ portfolio is outperforming the market handily, and has an average dividend yield of over 8%.
Disclosure: I am/we are long KRP.
I wrote this article myself, and it expresses my own opinions. I am not receiving compensation for it (other than from Seeking Alpha). I have no business relationship with any company whose stock is mentioned in this article.