Source: Jobsgo.vn
The Turnaround Story Strengthens
General Electric (GE) has essentially made the move from $30 to $13 in the last year, and many critics are still yelling "sell this stock." However, with so much negativity in the air, could GE be at or near a bottom?
The company is executing its plan by selling off "non-core" assets, reforming its corporate culture, and is focusing on its primary business segments. Moreover, the stock still pays a dividend, and GE appears to be significantly undervalued at these levels. All this evidence suggests that GE is likely near a bottom and its share price should go significantly higher over the next year. Oh, and did I mention that earnings report? It was quite encouraging.
Q1 Earnings Overview And Key Highlights
Revenue rose to $28.66 billion in the first quarter, about a 4% YOY increase and about a 4% beat over consensus estimates that called for revenues of $27.45 billion for the quarter.
GE reported adjusted EPS of 16 cents a share, a 45% beat over the consensus analysts' 11 cent estimates. However, EPS were down by about 24% from last year's 21 cents adjusted income for the same quarter. It is important to note that the stock was about 100% higher back then.
Notable strong performers for the quarter were aviation, healthcare, renewables, and transportation. Relative weakness was observed in power, oil and gas, and capital.
CEO John Flannery said that they are seeing progress in GE's performance and that industrial earnings free cash flow and margins all improved on a YOY basis at the company. Industrial structural costs were reduced by $805 million, and the company is on track to exceed its cost reduction goal of $2 billion in 2018.
GE recorded reserves of $1.5 billion for potential liabilities associated with its former WMC mortgage unit. This is higher than the $426 million-$1 billion estimates provided by Deutsche Bank and Bank of America. This suggests that GE may be ready and able to face its challenges head on, instead of just kicking the can down the road.
Overall, it was a very good report that showed strong double-digit profit growth in some of GE's core businesses. Moreover, the company beat on the top and bottom lines. Also, it is important that GE did not disclose any new issues at the company, which may suggest that all of GE's problems are now out in the open. Future developments may surprise to the upside, which should result in a higher share price as well.
However, GE's major power segment continued to struggle, evidenced by the massive 38% YOY drop in profits. Another sore spot was GE's oil and gas segment, which showed a profit decline of 30% on a YOY basis.
GE remains very much a company of two tales. On the one hand, Aviation, Healthcare, and Renewables are performing well. And on the other hand, Power, Oil and gas, and Capital are not. This is not unexpected though, and the important thing is that the company is making moves to cut costs, improve culture, and spin off "non-core" units.
Due to the better than expected earnings, and constructive tone of the report, GE's shares rose by about 4% at the close. GE's outperformance was significant throughout Friday's trading session, especially considering that the S&P declined by almost 1 percent on the day.
Transportation Unit And Future Spinoffs
GE has announced spinoff deals worth close to $4 billion so far. This includes a GE Healthcare unit worth about $1.05 billion, but nothing significant, yet. Now, GE is looking to spin off its transportation unit. The segment is currently valued at roughly $7 billion by Bank of America Merrill Lynch, which is very close to my estimate of $7.5 billion for the business. Once GE closes the transportation deal, presumably it will have spun off more than $10 billion worth of assets, which is more than half of the $20 billion worth of assets GE has pledged to shed.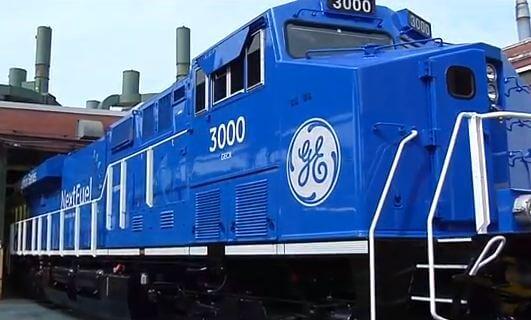 Source: FreightWaves.com
Why are the spinoffs necessary? GE appears to have become a very difficult company to manage efficiently and control effectively. A logical way to address this issue is to downsize some of the assets held by the conglomerate to "simplify" its operations, reduce costs, and improve profitability at its core businesses.
Some of GE's businesses can function much better at other companies, or as standalone firms. They don't need to be under GE's umbrella. GE has become a bureaucratic black box in recent decades and it's time transparency, efficiency, and increased profitability return to the company.
For now, the values of GE's businesses are getting crushed by the weight of poor management, excess bureaucracy, inefficiency, and overall lackluster performance. Significant value can be unlocked by stripping away some of the "non-core" assets and by focusing on improving GE's main business units.
GE's Boardroom Shakeup
In addition to making moves on the spinoff side, GE is also shaking things up in the boardroom. GE announced that 8 board members would be departing the GE board. The company also announced the nomination of 3 new board members and a change in its independent lead director. This may not seem like anything that significant but these are rather drastic moves by most board room standards. Therefore, this shakeup is a welcome sign, and suggests that management is intent on significantly improving the situation.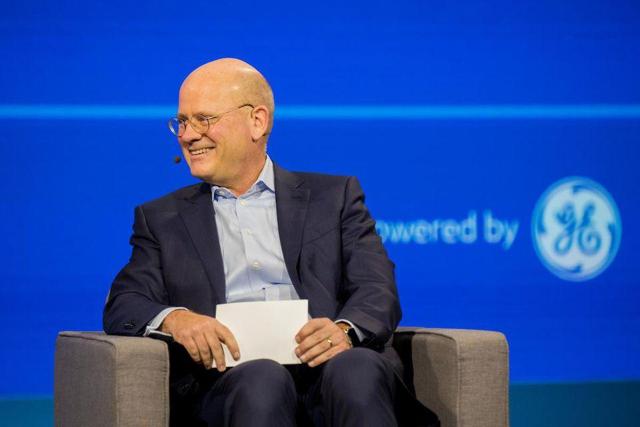 Source: Forbes.com
Also, this is significant because one of the greatest issues at GE is its bloated, bureaucratic, inefficient, and entitled corporate culture. And the best way to begin to reform the company from within is by starting at the top, at the board. In addition to making changes to its board, GE has also been cutting its workforce in recent months, and is likely to continue to make strides towards becoming a leaner, more efficient, better managed company.
All The Skeletons May Be Out Now
Let's not forget that GE's stock has made a trip from $30 to under $13 in about one year. The reasons for this are vast and include GE's $31 billion pension liability, $6 billion insurance write-off, a $15 billion whole for insurance reserves, an SEC investigation, a $4.2 billion dividend cut, and so on. However, with so much negativity, scrutiny, and pessimism surrounding the company and its stock all or most of the "bad news" is likely out by now.
Historically, instances such as this, where a company's stock is battered relentlessly, blood is in the streets, etc., have proven to be the best times to accumulate shares as the stock is likely very close to a bottom. And this is where I see GE right now. A more constructive tone may begin to move the stock significantly higher going forward.
GE's Dividend
One thing that sometimes gets overlooked is the fact that GE still has a dividend, and at the current share price, the yield is roughly 3.5%. Furthermore, as the company continues to improve its financial situation GE should be able to grow its dividend in time. Also, provided the most recent earnings report it does not appear likely that GE will need to further reduce its dividend going forward.
Technical Blueprint
The chart shows that a bottoming process may have taken place around the $12.50-$13 level. We see that GE had gotten severely oversold several times throughout the violent yearlong selloff. However, more recent legs lower were on lesser volume, and other technical indicators suggest that overall momentum may be shifting towards a more positive tone for GE.
The RSI, CCI, and full stochastic are trending higher, and CCI levels have improved in recent declines over the prior selloffs. GE flew over the 50-day moving average recently, it now needs to remain above it and as the 50-day flattens and moves higher GE should proceed higher as well.
GE 1-Year Chart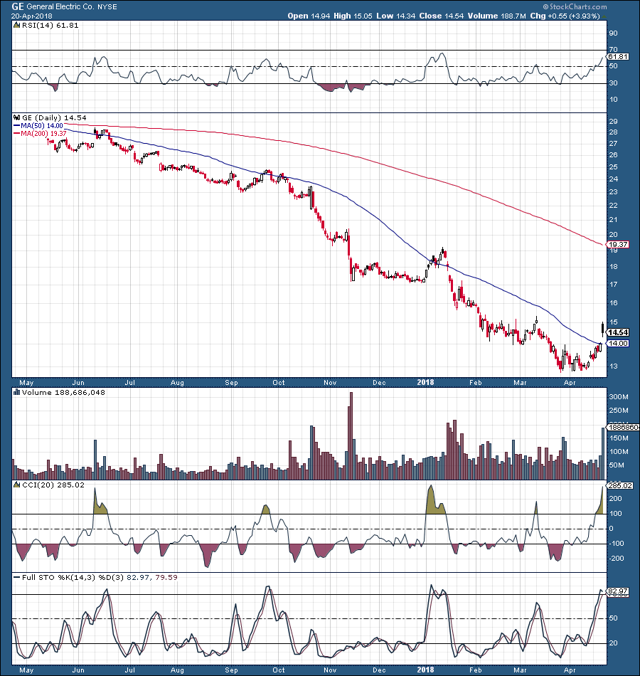 Source: StockCharts.com
GE 5-Year Chart
GE: Still Significantly Undervalued
The bottom line is that despite their temporarily depressed valuations, GE's businesses are worth a lot more than they are currently given credit for. Based on 2017 profit results, we see that GE's core businesses Aviation, Healthcare, Renewable Energy, and Power brought in roughly $95 billion in revenues and about $13.5 billion in profits. If we apply an industry average P/E multiple of 18.3 to this figure, we arrive at a valuation of about $250 billion, which is significantly higher than GE's current enterprise value of around $200 billion.
What About Transportation, Lighting, Oil and gas, and Capital? These units aren't worthless, well, GE Capital may be, but the rest are worth something. As I have discussed in prior articles, Lighting, Transportation, and Oil and gas can be valued at roughly $30 billion. The company is likely to spinoff segments of these businesses going forward, but for now, their worth should be factored into the company's value.
Based on this valuation of GE's assets, the company's enterprise should be valued at around $280 billion, not $200 billion as it is valued right now. What skews the valuation further is the fact that GE is going through an incredibly difficult rough patch right now, and earnings should improve notably over the next few years. This suggests that the stock is at or near a bottom and that the near-term upside is about 40-50%. Therefore, GE should trade up to about $20-$22 within the next year.
Note: SA has introduced a new feature. Hit the "Like" button if you enjoyed reading my article. Also, feel free to hit the "Follow" link to receive updates about my future ideas. Thanks for reading!
Disclaimer: This article expresses solely my opinions, is produced for informational purposes only, and is not a recommendation to buy or sell any securities. Investing comes with risk to loss of principal. Please always conduct your own research and consider your investment decisions very carefully.
To receive real time updates, and get more information about this idea as well as other topics please visit the Albright Investment Group trading community. Join us and receive access to exclusive content, trade triggers, trading strategies, price action alerts, and price targets. Theses value-adding features are available only to members of our trading community, and are not typically discussed in public articles.
Disclosure: I am/we are long GE.
I wrote this article myself, and it expresses my own opinions. I am not receiving compensation for it (other than from Seeking Alpha). I have no business relationship with any company whose stock is mentioned in this article.