Spain is a country of extremes. The Kingdom of Spain is the second-largest country in the EU – with an area of 505,955 square kilometres, the population of 46,383,259 is the sixth-largest in Europe. It is also a relatively poor country – its per capita GDP of US$26,528 ranks as #14 after such heavies as Germany at $41,936, the U.K, at $39,899, France at $36,854 and Italy at $30,527.
The country has major problems. Unemployment for the below-25-year-olds stands at 37% and the average annual salary of young people who enter the labor market is today 33 percent lower than in 2008.
Spain has Europe's biggest wealth gap – the combined fortunes of Spain's top three richest people are equivalent to the wealth of the poorest 30 percent of the country. 10.2 million live below the poverty line, equivalent to a poverty rate of 22.3 percent. This makes Spain the fourth country in the European Union [after Greece, Bulgaria and Lithuania] with the highest levels of inequality. Spain's Gini coefficient, the most widely used measure for income inequality, ranks among the highest in Europe with Gini indices at 0.34 – 0 being the best and 1 being the worst.
However, Spain's biggest problem is Catalonia. Catalonia's independence referendum on October 1, 2017, plunged Spain into its biggest political crisis for a generation. The north-east region's history of self-rule and trying to split from Spain goes back nearly a thousand years. The few times it has declared independence it never went very far and in the 17th century it ended up losing its northern regions to France as a result. Spain has been successful in suspending Catalonia self-rule for long periods but in the end the will for autonomy and independence has always emerged stronger.
Catalonia's population is 7.5 million or about 16% of Spain's total. Barcelona is its largest city and the urban region of Barcelona accounts for nearly 50% of Catalonia's population. The majority of the Catalonian population speaks Catalan which is closer to French and Italian than to Spanish or Portuguese.
It is unlikely that Catalonia's desire for independence will go very far this time either. Its economy is extremely dependent on the rest of Spain followed by the other EU countries. I understand that if Catalonia succeeds in eventually getting its own country, this country will not be welcome in the EU. Both Spain and France will in all probability veto any form of association if only to demonstrate to the Basques and the Corsicans that independence has a very steep cost. Nevertheless, the wish by a large percentage of the Catalonian population to have their own country is unlikely to go away and will in all probability continue to provide a cause of unrest in the Spanish body politic.
Having said all this, the economic outlook for Spain is pretty good. The strong growth momentum in the second half of 2017 has resulted in a higher growth carry over into 2018 than anticipated and an upward revision to growth this year, to 2.6%. Growth is expected to ease to an annual rate of 2.1% in 2019. Although the consequences for growth of recent events in Catalonia have remained contained, future developments could still have an impact, the size of which cannot be anticipated at this stage.
On balance, Spain is a relatively difficult country to do business in and compares in many respects to France: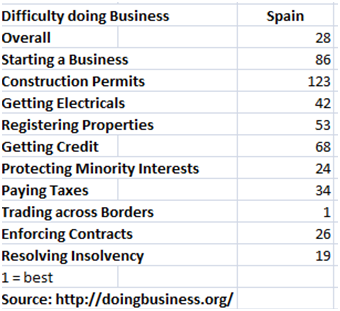 This is how Spain compares to the other countries already surveyed: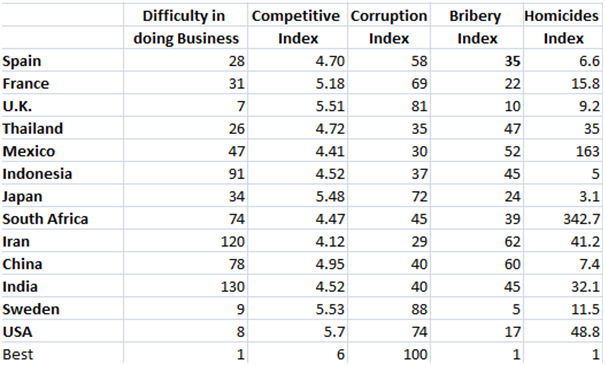 This is how the Spanish Toy Market breaks out: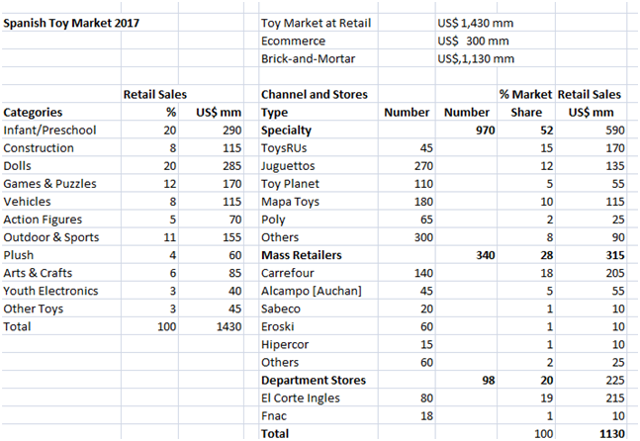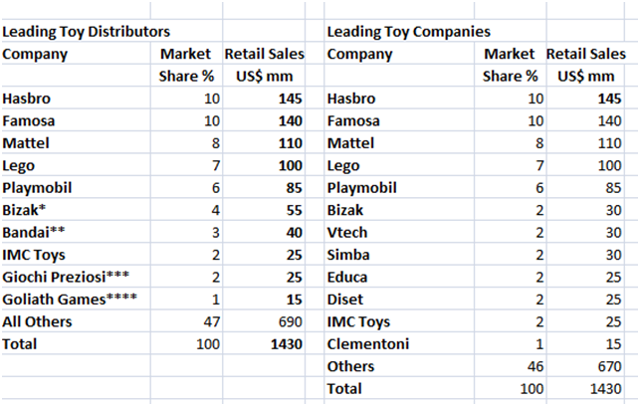 Source: Klosters Retailer Panel
As far as the $300 million online toy sales are concerned, Amazon (NASDAQ:AMZN) has about 75% market share, El Corte Ingles 5%, Groupon (NASDAQ:GRPN) 5% and all the others the remaining 15%.
Market growth was very strong in 2017, estimated at 7%. The first half of the first quarter 2018 has also shown continued momentum at about the same rate.
Given the importance of the traditional toy market leaders – Lego, Hasbro (NASDAQ:HAS) and Mattel (NASDAQ:MAT) – it behooves us to look more closely at them. One of my Spanish contacts, a very well-established distributor, who had been kind enough to provide the data indicated above, had the following to say:
Hasbro has made considerable progress in the last four years, going from a third position and a market share of 9.2% in 2013 to the top position and a 10.2% market share in 2017. This was achieved on the strength of two major efforts – establishing itself as a major player in the Fashion Doll category and maintaining its leading position in the Action Figure field. This is how the top five brands of both categories looked like in February 2018.
| | | | | | |
| --- | --- | --- | --- | --- | --- |
| Retailer | Best | Second | Third | Fourth | Fifth |
Fashion Dolls
| | | | | | |
| --- | --- | --- | --- | --- | --- |
| TRU Spain | Dis Princess HAS | Barbie MAT | Descendants HAS | Enchantimals MAT | MC2 MGA |
| Amazon Spain | LOL MGA | Enchantimals MAT | Barbie MAT | Descendants HAS | Dis Princess HAS |
Action Figures
| | | | | | |
| --- | --- | --- | --- | --- | --- |
| TRU Spain | Ben + Holly Bizak | GRU Mondo | POP Funko | Guardians HAS | Figurines Playmobil |
| Amazon Spain | POP Funko | Avengers HAS | Paw Patrol Spin Master | Guardians HAS | Figurines Playmobil |
Source: Klosters Retailer Panel
Hasbro has been established in Spain since 1990 and manages all business operations including marketing, sales and supply chain management. Hasbro's strength in Spain is a function of its management culture there which encourages local initiatives and very much takes its own marketing decisions – a fact which is particularly appreciated by its key retailers.
Mattel, on the other hand, took a beating. The company had the top position and a market share of 12% in 2013 and is now down to #3 and a market share of 7.7%. As we have seen in the chart above, Mattel loses out to Hasbro in its core business, Fashion Dolls, and is nowhere in the Action Figure field. In this the company's performance echoes what we have seen in our analyses of the U.K. and the French toy markets in earlier articles. In fact, Spain is one of the very few markets where Barbie is not in the top position, but has been overtaken by Disney Princess.
Mattel has been established in Spain since 1983 and controls itself all activities related to marketing, selling and supply chain management. Unlike Hasbro where the decision making weight is in Spain, Mattel's marketing initiatives are heavily influenced by the views obtaining at its European and U.S. headquarters. Also, recent changes at the very top of Mattel have introduced a high degree of uncertainty in the perceptions held by country managements and Spain is no exception to this.
Lego improved its market share in Spain by going from 4.5% in 2013 to 6.9% in 2017. The company totally dominates the Construction Toy category with a market share of 87%. Lego has been established in Spain since 1974 and it, too, controls all its activities soup to nuts. Lego Spain is one of the more successful countries in Lego's world and has defied the issues that have beset the company in its most recent years.
Final Takeaway
Spain is not an easy market to do business in and an even more difficult market to enter from scratch. The top five toy companies have a hammerlock on the key toy categories as is shown in the case of Lego which has nearly 90% of the construction toy space. That is the reason why virtually all second-tier companies – MGA, Spin Master, etc. – have elected to go the distributor route. For any newcomer, this may well be the most sensible way to go.
To see how a distributor arrangement might look like I spoke to one well-established and very credible toy distributor there. This is how he described a possible collaboration with a toy manufacturer seeking to get a foot into the Spanish door:
We will look at any new potential partner provided that the company's products are not in direct conflict with what we already carry. We are in particular interested in Arts and Craft products and Outdoor toys but will consider others as well. We will handle the entire sales process through our own employees who provide nationwide coverage at all major toy retailers. The products of the new partner would be included in our toy catalogue which we advertise very heavily on TV – an effort that represents 90% of our advertising budget. We determine our pricing in line with market conditions. Most importantly, we promote and back all products from companies we represent as exclusive distributor as if they were our own.
In summary, Spain is a difficult market for new entrants but one that is substantial and growing. The good news is that there are a number of extremely capable distributors who have a track record of successfully working with small to medium-sized toy manufacturers, provided that they are willing to let their Spanish partners get on with it without undue interference from afar.
I publish two monthly reports on the toy space, both of which are available to Business Intel on Toys subscribers One is the Toy Supply Chain Newsletter, which looks at the toy space from the perspective of the worldwide market place – what happens in it and what are the retailers doing there – market shares, shelf space for major brands, inventory and supply chain issues.
It is an essential, unique resource for anybody who needs to understand the longer-term direction of the world in which the toy manufacturers operate and who requires insights not solely focused on past financial history.
The other is the Toy Manufacturer Newsletter, which tells you how the leading retailers worldwide perceive what Hasbro, Mattel, Spin Master (SNMSF), Jakks Pacific (JAKK) and VTech/Leapfrog (VTKLF) are doing. This includes sales projections for the quarter and year; top brands at leading retailers worldwide for major product groups; market share changes and other company-specific issues. If you follow these companies yet do not want to rely solely on SEC filings and quarterly earnings calls, this is made for you and you cannot find its equal elsewhere.
Both reports complement each other and are based on original, ongoing and current research. Subscribe to Business Intel on Toys today for an exclusive look at both reports.
Disclosure: I/we have no positions in any stocks mentioned, and no plans to initiate any positions within the next 72 hours.
I wrote this article myself, and it expresses my own opinions. I am not receiving compensation for it (other than from Seeking Alpha). I have no business relationship with any company whose stock is mentioned in this article.