Investment Thesis
There is plenty not to like about IBM (IBM). Nevertheless, because it is out of favor with investors, this is precisely why IBM is cheap. As value investors know, the only way to beat the market is by investing against the market. As such, I argue that IBM is now undervalued and presents a valuable investment opportunity.
Recent Developments
In my last IBM article, earlier this month I wrote:
I have been highly critical of IBM's business prospects for some time. And while the issue which troubled me in the past continues to trouble me now, I am turning cautiously optimistic as I believe that at its present valuation, shareholders might have seen the worst of IBM already.
I stand firmly by those statements today. I believe that while IBM has not yet shown much in the way of the fruits of its labor, there are now some rays of light at the end of the tunnel, which leads me to believe that IBM's operations have started to stabilize. Which, when taken together with IBM's low valuation, I suspect that a lot of bad news with regards to its chronic underperformance has already been accounted for.
IBM's Potential
Throughout my IBM articles, I have consistently highlighted my dissatisfaction with IBM's management – this has still not changed. Notwithstanding this glaring blemish in my bullish thesis, I postulate that IBM's performance has finally reached stability. This is not the same as concluding that a turnaround is in effect, not really, not yet.
But at the end of the day, IBM did post the best constant currency growth in seven years. Was this quarter a flash in the pan? Will IBM's next quarter continue to build on this momentum? I do not know. But the beauty here, is that investing into a blue-chip fallen angel, while not having to pay much for it, leaves more which can ultimately go right than can actually go wrong.
Strategic Imperatives
Management makes analyzing IBM notoriously complicated by refusing to openly discuss its underperforming businesses. Having spent a great deal of time perusing through IBM's SEC filings, I can conclusively state that IBM's management has no interest in offering investors this information. On the contrary, IBM's management puts a strong spotlight on its strategic imperatives – which are IBM's cherry-picked business lines.
Nevertheless, in spite of much-craved details from investors, when all is said and done, IBM's strategic imperatives now generate 50% of IBM's consolidated revenue.
In more detail, IBM has 3 main operating segments, which generate close to 88% of total revenue. These are its Technology Services & Cloud Platforms (roughly 45% of total revenue), Cognitive Solutions (roughly 23% of total revenue) and Global Business Services (just shy of 22% of total revenue). Further, while IBM can press forward with the narrative that each one of its large segments generated year-over-year growth, when we drill down a little, we can see that is not actually the case:
Looking at our performance at constant currency. The revenue trajectory improved in both services segments and both returned to modest growth.

CFO Kavanaugh Q2 earnings call
However, once we exclude currency benefits of 2%, both IBM's Technology Services and Global Business Services were actually flat year to year, adjusting for currency.

Source: Investor Presentation
Could The Cloud Be IBM's Catalyst?
Next, there is no denying that IBM's cloud is able to deliver solid revenue growth. For instance, IBM's cloud was up in Q2 by 18% YoY (at const. currency) to $4.7 billion, while the cloud generated $18.5 billion over its trailing twelve months.
Thus, without any heroics, according to some commentators, this makes IBM's cloud bigger than most other big-name players, such as Google (GOOGL) (NASDAQ:GOOG), Salesforce (CRM), Oracle (ORCL) as well as others.
In other words, IBM's cloud is no pushover. As investors clamor to participate in this fast-expanding sector, while at the same time arguably overpaying for said participation in other stocks, IBM, conversely offers investors significant exposure to this fast-growing sector without currently asking investors to pay up for its shares.
Valuation

Source: author's calculations, morningstar.com
On the one hand, we cannot say that Amazon (AMZN), Alphabet or Microsoft (MSFT) are IBM's peers. On the other hand, these companies are arguably trading at elevated multiples, in part, because of the narrative which these companies are spinning about their cloud operations and how their respective cloud platforms are growing at astonishing rates. And as we can see, on a P/Sales ratio, which I believe is nicely reflective of investor's sentiment, we can observe that the 3 peers all trade more expensively than their own 5-year averages. Sometimes justifiably, but sometimes not so.
However, as the table above shows, IBM is the outlier in the group, with its P/Sales and P/Cash Flow multiples both trading cheaply relative to itself as well as relative to its peers.
Finally, given Kavanaugh's continual reaffirming guidance that IBM would be able to generate approximately $12 billion of free cash flow in FY 2018, this puts IBM on less than 12X multiple to free cash flow – bargain.
Takeaway
I argue that there are plenty of reasons not to like an investment in IBM and that is why its shares are cheap. Simply put, I believe that given that IBM already trades for less than 12X free cash flow, a lot of bad news has already been more than priced into IBM's shares.
Author's note: The only favor I ask is that you click the "Follow" button so I can grow my Seeking Alpha friendships and our Deep Value network.
Disclaimer: Please do your own due diligence to reach your own conclusions.
Find alpha in unloved names with enormous upside potential
At Deep Value Returns, I'm laser-focused on two things: free cash flow and unloved businesses. Companies that are going through troubled times, but that are otherwise stable and cash-flow generative can be bought on the cheap, providing investors with an opportunity for exceptional returns once those names come back in favor – as they often do. If you're looking for a deep value investing approach inspired by Buffett, Icahn, and Greenblatt that can help you generate between 50% and 200% potential upside in just a few years, then sign up for your two-week free trial with Deep Value Returns today!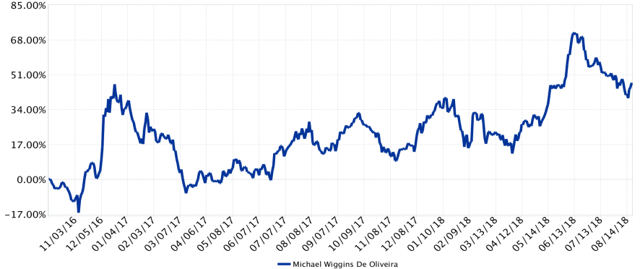 Disclosure: I/we have no positions in any stocks mentioned, and no plans to initiate any positions within the next 72 hours.
I wrote this article myself, and it expresses my own opinions. I am not receiving compensation for it (other than from Seeking Alpha). I have no business relationship with any company whose stock is mentioned in this article.